NetAdmins provides enterprise-class IT services & tech support to New Brunswick, Nova Scotia and PEI small and mid-sized businesses. We manage every part of your IT, so you can focus on what you do best—running your business.
Partnering with NetAdmins is like having an entire IT support department at your disposal, whenever you need it. With a range of services including IP telephony (VoIP), email and web hosting, data back ups, paperless document management, security audits and 24-hour IT helpdesk, New Brunswick businesses can count on us as their only stop for business IT solutions.
On top of our à la carte offerings, we also provide comprehensive Managed IT Services in New Brunswick, Nova Scotia & PEI—including unlimited onsite and remote IT support, so you have a constant hedge against IT disasters. Our skilled computer technicians in New Brunswick maintain your business IT systems, keeping them in top shape, and minimizing downtime.
We make sure your managed IT services in New Brunswick are stronger and more secure so your users can be more productive and focused on your core business—always at a savings to your bottom line.
Contact us today to learn more about our Managed IT Service plans or our range of expert IT and communication services.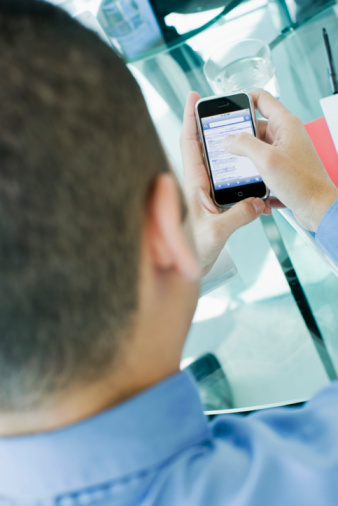 Android and Apple iOS apps aren't as secure as we'd like to believe. According to security research firm Arxan Technologies, the top 100-paid Android apps, and 56% of the top 100-paid Apple iOS apps have been compromised!
Do you download and install free apps? Don't feel too secure about these applications. According to Arxan:
73% of free Android apps and 53% of free Apple iOS apps have been hacked!
Arxan Technologies recently revealed widespread app hacking among all high-risk apps, including mobile financial apps. If you're using mobile financial apps on your smartphone, it's time to consider banking online or over the phone instead—53% of Android financial apps and 23% of Apple iOS financial apps are compromised.
If you use a wide variety of apps on your smartphone, keep an eye out for the following potential risks you may experience:
Revenue loss
Unauthorized access to data
Intellectual property theft
Fraud
Altered user experience
Brand erosion 
The widespread use of hacked apps is a huge concern, especially when employees are using their smartphones or tablets in the workplace.
Compromised apps are vulnerable to attacks, including malware and reverse engineering, enabling hackers to access sensitive corporate data. 
Mobile Application Security In The Workplace
Mobile apps require an extensive number of security measures to ensure corporate data is protected. Your employees face significant risks when downloading mobile apps. There are many security measures both you and they should consider:
Don't assume that web-app security strategies address the new requirements for mobile app protection.
Use apps with protection built in to the application binary code to avoid static and runtime attacks.
Download apps from trusted enterprise app stores.
Don't use apps that store passwords.
Use tools that allow you to view traffic between the mobile app and the Web server.
Mobile application security is critical to avoid unauthorized access to corporate data. To learn more about mobile application security, give us a call or send us an email. We can help ensure your employees are using mobile apps safely.