NetAdmins provides enterprise-class IT services & tech support to New Brunswick, Nova Scotia and PEI small and mid-sized businesses. We manage every part of your IT, so you can focus on what you do best—running your business.
Partnering with NetAdmins is like having an entire IT support department at your disposal, whenever you need it. With a range of services including IP telephony (VoIP), email and web hosting, data back ups, paperless document management, security audits and 24-hour IT helpdesk, New Brunswick businesses can count on us as their only stop for business IT solutions.
On top of our à la carte offerings, we also provide comprehensive Managed IT Services in New Brunswick, Nova Scotia & PEI—including unlimited onsite and remote IT support, so you have a constant hedge against IT disasters. Our skilled computer technicians in New Brunswick maintain your business IT systems, keeping them in top shape, and minimizing downtime.
We make sure your managed IT services in New Brunswick are stronger and more secure so your users can be more productive and focused on your core business—always at a savings to your bottom line.
Contact us today to learn more about our Managed IT Service plans or our range of expert IT and communication services.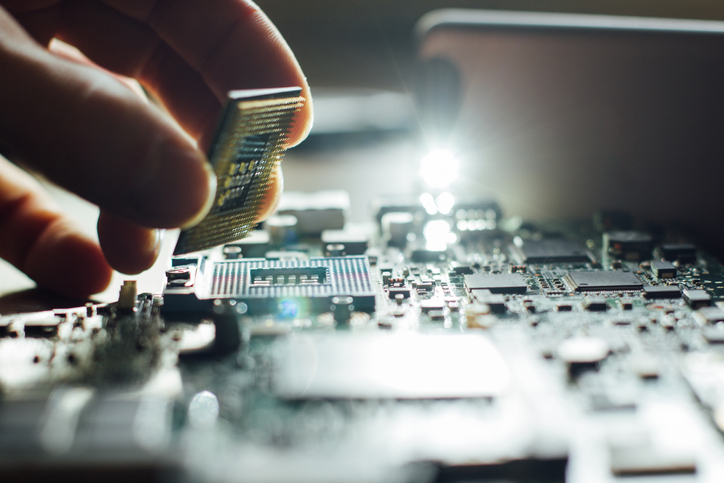 Intel Humiliated by Losing CPU Market Share to Eager AMD
Intel's continued problems with delivering CPUs are expected to go on throughout the fall and potentially 2020. Intel's CEO Bob Swan told shareholders during their second-quarter conference call that the delays in processor deliveries would continue until September.
The fallout benefits AMD, which increased its market share from 9.8 percent in 2018 to 18 percent by the end of June 2019.
Why is Intel having trouble shipping CPUs on time?
The culprit is Ice Lake, Intel's high volume 10nm processor. The chipmaker announced Ice Lake at CES 2019, but the processor hasn't been forthcoming in the volumes Intel promised. The 10nm project has slowed Intel's other chip line production. Lower-end processors have especially suffered, leading to supply chain problems for manufacturers, retailers, and customers.
What are Intel's problems with the 10nm CPU?
The current problems continue Intel's struggles with 10nm chips which date back to 2013. Intel's initial goal for 10nm CPUs was 2015. Year by year, Intel has pushed back the deadline for 10nm CPUs. Intel's second-quarter conference call gave late 2019 as the deadline — but the real date is more likely to be 2020 for most people who want to buy PCs with the new CPU.
The bottom-line culprit is engineering choices. Intel's 10nm design selections have consistently held mass production back on its 10nm CPU project. As problems continued, Intel responded by refining its 14nm CPU performance and production process. TSMC and Samsung have 10nm CPUs, but their performance is equivalent to Intel's 14nm CPUs.
What is so good about increasingly tiny CPUs?
Intel and its competitors, including AMD, are continuing R & D on smaller and smaller gate-size processors. Smaller gate sizes allow more CPU cores, or they enable a smaller die for the same performance as a larger CPU.
Smaller CPUs also use less power and generate less heat, a must for mobile devices and laptops. With desktop PCs, heat and power consumption aren't as important, so processor performance can be improved in other ways.
How have Intel's supply problems affected its business?
Intel's stock has increased 6% since January 2019 according to Fortune, but rival AMD's stock has gone up 83%. Nvidia's stock has risen 25% since January.
The supply problems are mirrored by leadership problems at "Chipzilla." Intel's former CEO Brian Krzanich resigned in June 2018 when a relationship with a former employee was disclosed. Krzanich's replacement Bob Swan is credited with improving company morale and redirecting the floundering 10nm CPU team.
Has AMD taken advantage of Intel's delays?
AMD is gaining market share with scaled-up production of 12nm circuits. The Santa Clara-based chipmaker is gaining market share from Intel with its Ryzen 14nm and 12nm CPUs. It has announced 7nm Ryzen and Rome CPUs. AMD's year-to-year market share in desktop computers grew from 12.2% in the first quarter of 2018 to 17.1% by the first quarter of 2019. In notebooks, AMD's share grew from 8% to 13.1 %.
AMD also expects the number of Ryzen CPU notebooks to grow significantly in 2019, with desktop units growing by 30% and notebooks by 50%. Lenovo, the world's #2 PC manufacturer, will be using Ryzen 7 Pro 3700U chips in its upcoming ThinkPads.
Which Intel and AMD news should industry pros and investors watch in upcoming quarters?
Intel has delayed shipments of all of its CPUs, not just the promised 10nm Ice Lake and variant chips. Rivals AMD and Nvidia have taken advantage of ongoing delays to ink new deals with major companies including Lenovo.
Investors and industry pros should keep an eye on CPU market shares for the rest of 2019 and into 2020. This will indicate if the agile upstarts are going to continue to take on "Chipzilla" and change the landscape of computing power in 2020 and beyond.