NetAdmins provides enterprise-class IT services & tech support to New Brunswick, Nova Scotia and PEI small and mid-sized businesses. We manage every part of your IT, so you can focus on what you do best—running your business.
Partnering with NetAdmins is like having an entire IT support department at your disposal, whenever you need it. With a range of services including IP telephony (VoIP), email and web hosting, data back ups, paperless document management, security audits and 24-hour IT helpdesk, New Brunswick businesses can count on us as their only stop for business IT solutions.
On top of our à la carte offerings, we also provide comprehensive Managed IT Services in New Brunswick, Nova Scotia & PEI—including unlimited onsite and remote IT support, so you have a constant hedge against IT disasters. Our skilled computer technicians in New Brunswick maintain your business IT systems, keeping them in top shape, and minimizing downtime.
We make sure your managed IT services in New Brunswick are stronger and more secure so your users can be more productive and focused on your core business—always at a savings to your bottom line.
Contact us today to learn more about our Managed IT Service plans or our range of expert IT and communication services.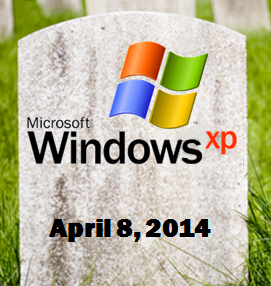 Is your business ready?
In less than a year, those holding onto their precious Windows XP systems will be left to fend for themselves. Microsoft will no longer offer any support to Windows XP as of April 8, 2014. After all, it has been over 11 and a half years since Windows XP was first launched and we were shocked to see how many businesses continue to run Windows XP and even Internet Explorer 6.
Why do so many businesses continue to hang onto to these aging technologies? After all, many industry pundits continue to stress the importance for business to consistently check the technology they have invested in and look for new solutions to help increase efficiencies and lower the overall costs of technology support and simple maintenance of aging software and computers.
Joining Windows XP and Internet Explorer 6 on the Microsoft support chopping block will be Microsoft Office 2003, Exchange Server 2003 and Exchange Server 2010 (Service Pack 2). But did you know? Windows XP Mode is available for Windows 7 so if you were holding off upgrading to Windows 7 because of your legacy software applications, you have no excuse, your Windows XP applications will run on Windows 7.
38% percent of businesses continue to use Windows XP. We understand that many will continue to hold onto Windows XP for as long as they can, stretching it out to the last possible minute. But keep this mind, with the end of support from Microsoft comes the end of security updates as well. What are you willing to risk to hold onto that aging technology solution?
Are you hoping Microsoft will buckle under the pressure and stretch out support for Windows XP even longer? That is highly unlikely. Microsoft wants business to adopt their latest technologies and really, if your business hasn't reviewed upgrading your technology over the past 11 ½ years, a few extra months is not really going to make a difference.
Not to worry, your IT services team is here to help you make sense of all the confusion out there. Our skilled IT service professionals will sit down with you and come up with a plan to aid in your migration from Windows XP and get your business the best solution possible. Is that Windows 7 or Windows 8? We don't know until you speak with us. Call us today and book your Windows XP meeting with us.