NetAdmins provides enterprise-class IT services & tech support to New Brunswick, Nova Scotia and PEI small and mid-sized businesses. We manage every part of your IT, so you can focus on what you do best—running your business.
Partnering with NetAdmins is like having an entire IT support department at your disposal, whenever you need it. With a range of services including IP telephony (VoIP), email and web hosting, data back ups, paperless document management, security audits and 24-hour IT helpdesk, New Brunswick businesses can count on us as their only stop for business IT solutions.
On top of our à la carte offerings, we also provide comprehensive Managed IT Services in New Brunswick, Nova Scotia & PEI—including unlimited onsite and remote IT support, so you have a constant hedge against IT disasters. Our skilled computer technicians in New Brunswick maintain your business IT systems, keeping them in top shape, and minimizing downtime.
We make sure your managed IT services in New Brunswick are stronger and more secure so your users can be more productive and focused on your core business—always at a savings to your bottom line.
Contact us today to learn more about our Managed IT Service plans or our range of expert IT and communication services.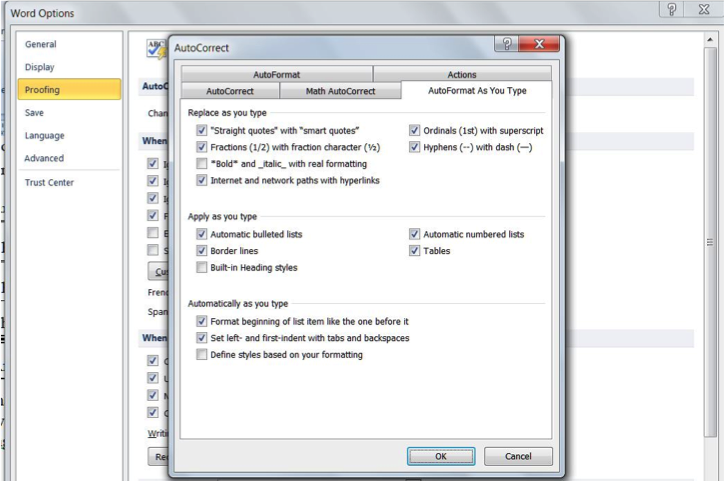 With each new version, Microsoft Word allows users to create unique documents with handsome fonts, headings, border lines and many other cool features.   It is very easy to add a line in a heading with just four keys.  Headings and border lines are automatic horizontal lines that help make headings stand out.  At the same time, it's easy to accidentally insert these lines, and these next steps will show you how to quickly remove them.
Here are the four types of horizontal lines and how to make them.
This one comes from typing === (3 equal signs) and pressing enter.
This one comes from typing — (3 dashes) and pressing enter.
This one comes from typing ### (3 pound signs) and pressing enter.
And this final one comes from typing ___ (3 underscores) and pressing enter.
Now, be mindful that it is also possible to accidentally create a line or border. If you want to turn off these automatic lines altogether, go to File, Options, and Proofing then click the AutoCorrect Options button.  Next, on the AutoCorrect dialog, click the AutoFormat as you Type tab.  Unchecking the Border lines option will turn off this automatic feature completely.
If you simply want to type any of the above symbols out not intending to create a border, be sure to hit "space" afterward the three symbols and then hit enter. This will leave it as is. (IE: ### is common in press releases)
If you try to delete an accidental border, sometimes you can get lucky by selecting the line and tapping the Delete key to remove it. If that does not initially work, press Control-Shift-* (asterisk) to display characters that don't print, delete the paragraph symbol immediately above the line or below.  If that method *still* doesn't work, select the line, and the paragraph symbol above the line and below. Click the drop-down to the right of the Borders button which is the icon at the right side of the bottom row in the Paragraph group, and click "No Border" (the 5th option on the list.)  Another quick option to remove the border is to select the line before and after the border then click the "Clear Formatting" button at the top right corner of the Font group on the Home tab.
In summary, the automatic paragraph borders features lets you draw lines quickly, but occasionally it can accidentally inserts a border as well.