NetAdmins provides enterprise-class IT services & tech support to New Brunswick, Nova Scotia and PEI small and mid-sized businesses. We manage every part of your IT, so you can focus on what you do best—running your business.
Partnering with NetAdmins is like having an entire IT support department at your disposal, whenever you need it. With a range of services including IP telephony (VoIP), email and web hosting, data back ups, paperless document management, security audits and 24-hour IT helpdesk, New Brunswick businesses can count on us as their only stop for business IT solutions.
On top of our à la carte offerings, we also provide comprehensive Managed IT Services in New Brunswick, Nova Scotia & PEI—including unlimited onsite and remote IT support, so you have a constant hedge against IT disasters. Our skilled computer technicians in New Brunswick maintain your business IT systems, keeping them in top shape, and minimizing downtime.
We make sure your managed IT services in New Brunswick are stronger and more secure so your users can be more productive and focused on your core business—always at a savings to your bottom line.
Contact us today to learn more about our Managed IT Service plans or our range of expert IT and communication services.
Almost every single PC is hosted on some server or online platform such as the cloud. It's hard to use a computer without uploading and downloading data. But this can open the door to malware. It is alarming to know that someone might infiltrate your system and access personal data or sensitive information and then use it against you. The truth is, we cannot avoid the internet these days. So then, what can we do to ensure that our systems are secure? This article will outline some of the simple things we can do to ensure that we do not fall victim to ransomware and virus attacks.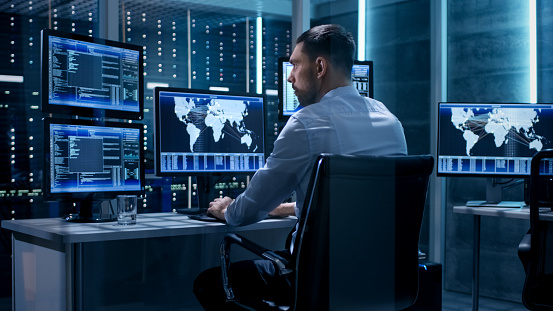 Test Your Settings
This is the very first step and it will show you how vulnerable your computer system is. Most hackers target weak anti-virus or even disabled passwords by using software such as the Microsoft Baseline Security Analyzer. This program allows you to easily detect the status of your passwords. Other important things to test for include your account settings. This includes such things as how many administrators can access your computer and what automatic updates are activated on your computer.
Create Secure Passwords
When creating online accounts, always use the two-step verification option. It works in a way that, whenever you log into an account, it will automatically send a unique code to your personal device, such as a cell phone. You are then required to enter this verification code into the account within a specified time before it expires. This adds an extra layer of security. Since the verification code expires after a few minutes, that prevents someone from using it later.
Update Your Operating System
It is always recommended that you acquire and install the latest version of your operating system because it is more secure. Hackers are developing better and more powerful viruses and malware. Most computer operating system companies such as Apple and Microsoft are trying to improve their features so they are better and more secure. All you have to do is turn on the automatic updates feature for your operating system and each time there is an update, it is installed automatically to your system. Gone are the days when you have to buy and install new updates from a CD. The Internet makes everything much easier.
Install Software From Trusted Sources
Most browsers will inform you if the software you are about to install is from an unknown source. Take these warnings seriously. Do a separate search online to determine whether the company is trustworthy before downloading their program. There could be a virus hiding in the program and once it gets into your computer system, it will corrupt your files. At the very least, some of these software programs will download annoying pop-ups and adware that will drive you crazy.
Install Reliable Anti-Virus
Always ensure that your anti-virus is up to date. It should have the ability to scan both online and offline materials, as well as external resources such as flash drives. Update your anti-virus regularly. Some may even require you to pay regular subscriptions in order to update them. If you use an expired antivirus, it will not work effectively. Schedule your scans so they are automatic. This will be done in the background so it doesn't disrupt your work.
Activate Your Firewall
Some operating systems such as Windows and iOS come with installed firewall programs. Be sure that yours is activated properly. A good firewall can be a strong line of defense against hackers. A firewall works in a way that it hides your computer when online from unwanted attention. It also controls access to your computer's network.
Look Out For Phishing Emails
Phishing scams are the number one way hackers break into your computer files. You will get an email that looks like it's genuine. It will include a link to click on. It may look and seem very authentic. This is how hackers infiltrate your system and introduce malware into your system. Your email's spam filter should be able to detect this, but if you are not cautious and you click the link, you might be in real trouble.
Delete Files Permanently
If you have been working on sensitive information and you no longer need it, ensure that you have permanently deleted these files from your hard drive. It is still possible for someone to retrieve the file, even days after deleting it. But it does take special software and skills to do this. Permanently deleting sensitive files you no longer use can protect you against losing important information.
Wrap Up
When it comes to technology, you should never let down your guard. Technology is a dynamic field. It changes all the time. You must stay vigilant and up to date with all the latest tools and know-how to protect your data properly.
The post Protecting Your Computer From Intruders appeared first on This Website Is Only Available For Members Of The Ulistic Marketing Programs. People Caught Stealing Content From This Site Will Face Legal Action..