NetAdmins provides enterprise-class IT services & tech support to New Brunswick, Nova Scotia and PEI small and mid-sized businesses. We manage every part of your IT, so you can focus on what you do best—running your business.
Partnering with NetAdmins is like having an entire IT support department at your disposal, whenever you need it. With a range of services including IP telephony (VoIP), email and web hosting, data back ups, paperless document management, security audits and 24-hour IT helpdesk, New Brunswick businesses can count on us as their only stop for business IT solutions.
On top of our à la carte offerings, we also provide comprehensive Managed IT Services in New Brunswick, Nova Scotia & PEI—including unlimited onsite and remote IT support, so you have a constant hedge against IT disasters. Our skilled computer technicians in New Brunswick maintain your business IT systems, keeping them in top shape, and minimizing downtime.
We make sure your managed IT services in New Brunswick are stronger and more secure so your users can be more productive and focused on your core business—always at a savings to your bottom line.
Contact us today to learn more about our Managed IT Service plans or our range of expert IT and communication services.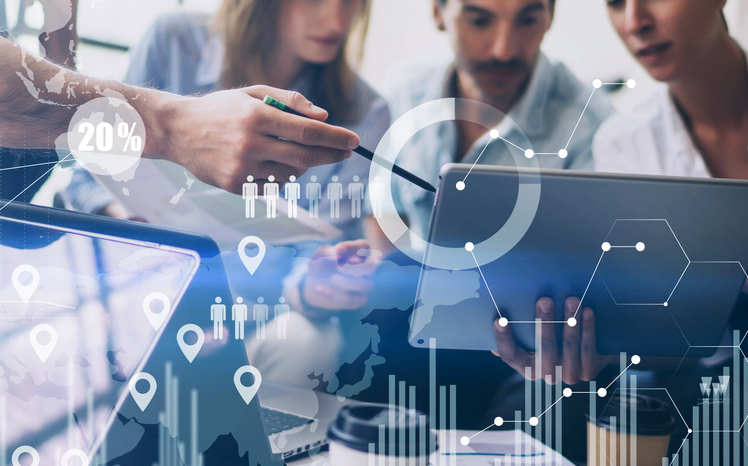 What's your favorite: red or blue? Sometimes there are no wrong answers to a question, and that may be the case when you consider the various infrastructure options of SD-WAN vs. MPLS. Can one be truly considered "better" than the other? It depends on the goals and requirements of your organization as well as the existing infrastructure that you are working with. Let's unpack whether SD-WAN or MPLS is the winner when it comes to selecting a protocol for your network traffic. With the growth of SaaS platforms and cloud-based storage and computing, this question is looming large in the mind of IT leaders throughout the world.
Understanding SD-WAN: The Frisky Upstart
Wide Area Networking (WAN) has been around for decades, with a centralized bandwidth controller that is used to direct traffic within your organization. Policies and procedures are fed into traditional branch routers that then find the most efficient method for providing your application with the connectivity that you need. Expanding WAN can be expensive and configuration can be fiddly, which makes SD-WAN all the more attractive due to its flexibility for deployment. With SD-WAN (Software-Defined networking in a WAN), virtualization is leveraged to reduce the physical footprint and reduce the overall complexity of your networking practices. To keep it simple, you are much more likely to meet the expectations of your employees and customers with SD-WAN because you're relying on a more flexible method of delivery for your business networking rules.
Understanding MPLS: The Hardened Contender
Multiprotocol Label Switching (MPLS) has been driving the business of doing business for many years and is a stable system for carrying data in high-performing networks. While it's traditionally been used in telecommunications, there are plenty of organizations using MPLS to direct internet traffic, too. Where MPLS really shines is in applications such as VoIP, video conferencing or virtual desktops due to the high packet availability and low loss of quality. Sound and video quality are exceptional, and the protocol is highly predictable in nature. There are some key disadvantages such as bandwidth cost and the potential that lower-rated applications or services could be slower or have slightly degraded quality due to de-prioritization by the "traffic cop". This protocol was great in a time when there were fewer demands on overall bandwidth, but today's hungry cloud-based applications can quickly eat through your monthly allotments.
Advantages and Disadvantages of MPLS and SD-WAN
Without a full understanding of the particular needs of your business, it would be difficult to pick a winner between these two contenders for Top Protocol. SD-WAN offers the global availability, scalability and control that you need at a more reasonable price point, while MPLS allows you to boost the priority for crucial traffic moving through your network. MPLS practically guarantees a higher level of quality for the most important traffic within your business, while SD-WAN offers an added layer of security that might be a big selling point for organizations in today's climate of rampant cybercrime. SD-WAN is generally considered to be more cost-effective and scalable — even though it is slightly less reliable than MPLS implementations.
Which Is Better for Your Business?
There is no clear and true winner in this battle, but you might be interested to know that Gartner released a recent whitepaper entitled: SD-WAN is Killing MPLS, So Prepare to Replace It Now. That seems like a pretty strong statement, especially considering that the research firm also notes that MPLS still far outstrips SD-WAN in terms of usage. Hybrid and internet-only WANs are on the rise as infrastructure leaders continue to look for ways to boost network efficiency and speed while reducing the possibility of a devastating security event. SD-WAN allows for an additional measure of control when it comes to security, which may be one of the reasons that IT leaders are moving in this direction.
There are no perfect answers that will fit the needs of every organization, but SD-WAN comes out on top in terms of price and scalability, while MPLS edges out the competition when it comes to overall reliability and reduced packet loss. One thing is for sure: this conversation will continue!