NetAdmins provides enterprise-class IT services & tech support to New Brunswick, Nova Scotia and PEI small and mid-sized businesses. We manage every part of your IT, so you can focus on what you do best—running your business.
Partnering with NetAdmins is like having an entire IT support department at your disposal, whenever you need it. With a range of services including IP telephony (VoIP), email and web hosting, data back ups, paperless document management, security audits and 24-hour IT helpdesk, New Brunswick businesses can count on us as their only stop for business IT solutions.
On top of our à la carte offerings, we also provide comprehensive Managed IT Services in New Brunswick, Nova Scotia & PEI—including unlimited onsite and remote IT support, so you have a constant hedge against IT disasters. Our skilled computer technicians in New Brunswick maintain your business IT systems, keeping them in top shape, and minimizing downtime.
We make sure your managed IT services in New Brunswick are stronger and more secure so your users can be more productive and focused on your core business—always at a savings to your bottom line.
Contact us today to learn more about our Managed IT Service plans or our range of expert IT and communication services.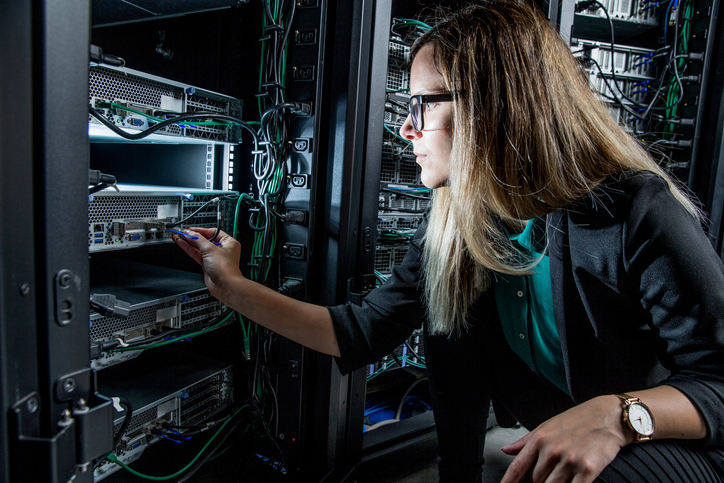 There is a point in every small business's lifecycle when technology becomes integral to the business. With some organizations, this could be the first day they are in existence — with others, it may be several months to a year or more before technical challenges begin to invade business operations. This can come on slowly, starting with a backlog of support requests, patches that are applied several months later and software licenses that are shared "for now". Each of these small steps are leading your business away from secure operations, and into a spiral that can be difficult and expensive to undo. Before you get to that point, it's important to consider the benefits of outsourcing the IT needs of your small business.
Technology Challenges Start Early
Simply managing your software licensing needs can be a challenge when your IT team consists of a single individual or perhaps a few overworked souls. Creating a cohesive strategy for your business should involve technology partners, but if they are focused on keeping the (digital) lights on it's tough for them to be strategic in any meaningful way. Leveraging the minds that know your business best in places that they can add real value starts by removing some of the nuisance tasks from their plate, and passing them off to individuals who are able to act upon them in a timely manner. That way, you can take full advantage of the thoughtful advice and research that your internal team can provide to drive the business forward.
Why Should I Outsource My IT Services?
Small business owners and leadership wear a variety of hats: your customer service manager may also be supporting web design, while your operations head is juggling production levels as well as infrastructure and wiring. Having these professionals stretch outside their comfort zone is how many small businesses get started, but growing into the next level requires a strategic focus within several dimensions. Cybersecurity is a major concern for businesses these days, with thousands of attacks happening on an annual basis to organizations of all sizes. Experts estimate that email compromises alone constituted over $12.5 billion in losses over the past five years — a staggering sum when you consider that small businesses bore a large percentage of that loss.
Outsourced IT = Added Peace of Mind
Working with an outsourced IT service provides you with the peace of mind knowing that there are dedicated professionals fully focused on ensuring that your business stays secure. With active monitoring solutions that can quickly trigger an alert, you're already avoiding the average 191 days that it takes a business to discover that they have been infiltrated by cyber attackers and that their data has been breached. Once a breach is identified, you'll still need to remediate the problem — and it can be extremely costly in terms of both time and money to bring in an outside organization that is not familiar with the data or infrastructure of your business.
Consistent Billing Provides Budgeting Benefits
Technology budgets can be quite complicated, as you're balancing the reasonable lifecycle of hardware products, software upgrades and the unexpected IT needs of the business on an annual basis. One way that you can add some consistency to your budgeting is by working with an outsourced IT provider. Instead of massive unexpected bills for services that you weren't anticipating, your technology services provider is able to work with you on a retainer basis so you can spread your costs more equally throughout the year. This allows for a higher level of predictability when you're working through your annual budgeting period.
With outsourced IT services, your business also gains around-the-clock protection for your data and network, robust backup and recovery platforms, access to professionals who can help quickly upgrade hardware and software as well as advanced security processes and procedures for your business. Together, you'll find that your operations and service levels are higher for both internal and external constituents when you're working with an IT solutions provider to support your business needs.