NetAdmins provides enterprise-class IT services & tech support to New Brunswick, Nova Scotia and PEI small and mid-sized businesses. We manage every part of your IT, so you can focus on what you do best—running your business.
Partnering with NetAdmins is like having an entire IT support department at your disposal, whenever you need it. With a range of services including IP telephony (VoIP), email and web hosting, data back ups, paperless document management, security audits and 24-hour IT helpdesk, New Brunswick businesses can count on us as their only stop for business IT solutions.
On top of our à la carte offerings, we also provide comprehensive Managed IT Services in New Brunswick, Nova Scotia & PEI—including unlimited onsite and remote IT support, so you have a constant hedge against IT disasters. Our skilled computer technicians in New Brunswick maintain your business IT systems, keeping them in top shape, and minimizing downtime.
We make sure your managed IT services in New Brunswick are stronger and more secure so your users can be more productive and focused on your core business—always at a savings to your bottom line.
Contact us today to learn more about our Managed IT Service plans or our range of expert IT and communication services.
4 Reasons Not to Hire Printer Companies
Thinking about saving money on your IT services with a printer company? Learn about the pitfalls and dangers of relying on support from companies without expertise.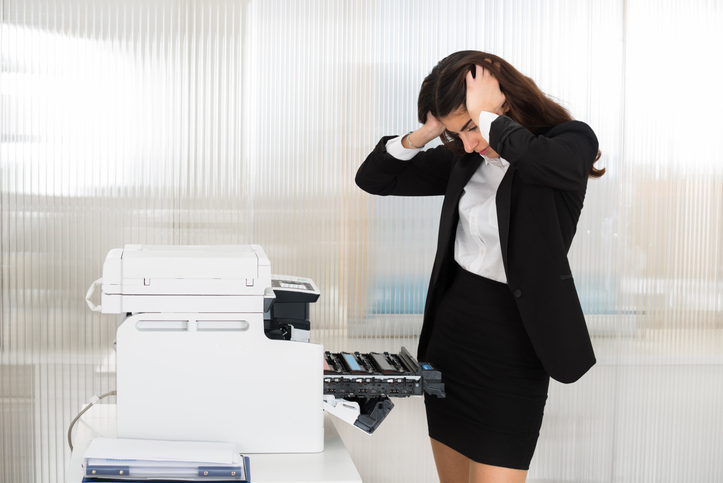 Hiring a printer company to take care of your IT services can seem like a great solution. You won't have to consult with multiple vendors or negotiate multiple contracts. A printer company might even offer to take care of all of your IT services for less than what you're currently spending. However, there are several reasons why you should not trust a printer company as your single vendor for all of your organization's IT needs. Although you may pay less, that lower price comes with a higher cost – substandard service and support.
The delivery of substandard service and support from printer companies occurs due to the following:
A lack of experience
An inability to understand the true nature and components of IT services
Inadequate resources directed towards developing IT and IT services
Unstable organizations due to conflicts between printing and IT services
Insufficient Experience
By design, printer companies are specialists in troubleshooting and maintaining two items – printers and copiers. While these companies are experts at providing service on these types of devices, branching out into the world of IT services is not something these companies have done in the past. Even though the staff may have basic troubleshooting, sales, and customer service experience under their belts, they may only have limited experience with the complexities of managing networks.
Lack of Understanding
Since printer companies do not have decades of experience with IT services, there is often a skill and knowledge gap. Without an understanding of and experience with more complex computing devices, troubleshooting skills may be limited. Computing devices, servers, and network equipment are more intricate than printers or copiers. In order to configure, deploy, maintain, troubleshoot, and fix this type of equipment, advanced and interdependent knowledge is necessary. It is far easier for printer companies to overlook the source of a problem with network dependent devices and the network itself simply due to a lack of skill.
Inadequate Resources
Since these companies specialize in printers and copiers, it is more difficult to devote internal resources to IT services. This means that there may be little put into research and development, training staff on the skills they need to support IT services, and a lack of support staff designated to managing IT services for clients. In other words, printer companies tend to overpromise and underdeliver when it comes to supporting services and devices outside of printers.
Instability
When printer companies try to branch out into IT services, it can cause internal conflict. Staff that is managing printers and copiers may not be able to keep the company afloat, due to the fact that the company is not reinvesting what it should into its printer expertise. Consequently, both sides of the business begin to suffer, and animosity develops. Leaders within the company may decide to cut out IT services altogether, leaving clients without support.