NetAdmins provides enterprise-class IT services & tech support to New Brunswick, Nova Scotia and PEI small and mid-sized businesses. We manage every part of your IT, so you can focus on what you do best—running your business.
Partnering with NetAdmins is like having an entire IT support department at your disposal, whenever you need it. With a range of services including IP telephony (VoIP), email and web hosting, data back ups, paperless document management, security audits and 24-hour IT helpdesk, New Brunswick businesses can count on us as their only stop for business IT solutions.
On top of our à la carte offerings, we also provide comprehensive Managed IT Services in New Brunswick, Nova Scotia & PEI—including unlimited onsite and remote IT support, so you have a constant hedge against IT disasters. Our skilled computer technicians in New Brunswick maintain your business IT systems, keeping them in top shape, and minimizing downtime.
We make sure your managed IT services in New Brunswick are stronger and more secure so your users can be more productive and focused on your core business—always at a savings to your bottom line.
Contact us today to learn more about our Managed IT Service plans or our range of expert IT and communication services.
Coming in the fall of 2018, Apple has announced the release of iOS 12 for iPhones and iPads. The new operating system has been designed to greatly improve the user experience. It will be faster and more responsive than the older versions. It includes a number of helpful apps that will make life easier and more fun.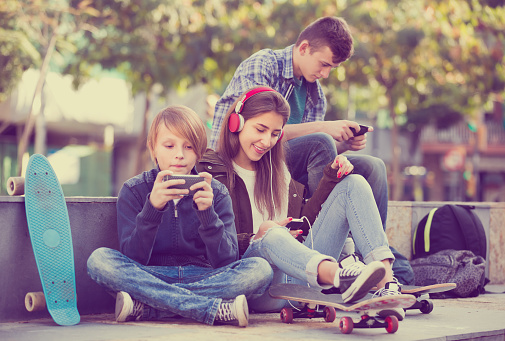 Apple has invested a great deal of time and effort in learning what users want most in their smartphones. They are touting iOS 12 as the most significant improvement to come along in some time. Keyboard typing will be much faster and more responsive. The camera will launch much quicker so you can get those great shots of your kids or pets playing.
The new operating system will work on older iPhones as well. Apple has said that the operating system will improve performance on devices going back to the iPhone 5S and iPad Air.
The Screen Time Tool
One of the most exciting improvements for parents will be a tool called "Screen Time." This tool is integrated into the operating system so there's no additional app to download. It provides a much-need method of monitoring how much time your kids spend on their phone and tablet computer. For years, parents have been complaining that there's no way to tell how much time their kids spend on the phone. Now there is.
For years, Google has had a Family Link app on its Android phones with similar capabilities. However, Apple has taken the idea to a new level. Screen Time has a program to record the time that users spend on various apps. Though there are various third-party apps on the market that do monitor this, for many users, these have simply not been as user-friendly as promised. With the Screen Time program, there's no third-party app to download.
If you want to know how much time your son or daughter has spent on Facebook, it's easy to find out. Now that the information is readily available, parents can regularly check to see if their child is spending too much time playing games or on favorite social media sites. Those who have tracked this before always say consistently that they're surprised at how much time they (or a family member) spend on certain websites or involved in some online activities.
The time does seem to fly by when you're playing your favorite game or joking around with friends on Facebook. Though these activities are entertaining, often kids are neglecting more important things like homework, cleaning their room, or just getting out of the house for some fresh air.
Parents (or kids) can generate activity reports by logging into their "Family Sharing" account located in iCloud. The app also enables parents to set time limits for usage. Though this is meant to help parents control how much time their kids spend playing around, it's an important tool for learning behavior patterns and developing behavior modification programs.
A tool in Screen Time called "App Limits" will notify you when your time is almost up. The warning is a good way for kids (and parents) to transition off of their device and get more involved in "real world" activities. Experts believe that the app is a more productive substitute for a parent yelling at their child to get off the phone.
iOS 12 includes many helpful apps for kids such as "Sleep is Supreme", an app that allows parents to set up bedtime parameters on their kids' tablets and phones. Parents can also limit the child's access to apps like Snapchat and Instagram during school hours. If you have learning apps on your phone like Quizlet, you can continue to allow them to run these at any time.
Sleep deprivation
No one's getting enough sleep these days. According to a new report by the American Academy of Sleep Medicine,[1] approximately half of all 15-year to 18-year olds get less than seven hours of sleep each night. Doctors recommend at least nine hours of sleep for this age group. Sleep deprivation can make you cranky and irritable. It keeps the brain in a state of being foggy and unable to process information as fast. It also affects the central nervous system and the immune system among others. Specialists have noted suicidal tendencies in teens with higher sleep deprivation.[2]
Control notifications
If you're bothered by notifications, you can set up parameters that control how often and when you receive notifications. The new tool is called "Downtime" and it will no doubt be a big hit with everyone. Getting notifications at all hours can be annoying, distracting, and it can prevent you from finishing a project. Now you can set up "Downtime" to deliver notifications when it's most convenient for you.
With Apple's new iOS12, adults are finally able to take charge of the time their kids can spend on certain activities. This should go a long way towards improving quality time with your family. It may also help kids to improve their school grades and make everyone more aware of the time we spend playing games or interacting on our favorite social media platform.
[1] http://sleepeducation.org/
[2] https://www.healthline.com/health/sleep-deprivation/effects-on-body#2