NetAdmins provides enterprise-class IT services & tech support to New Brunswick, Nova Scotia and PEI small and mid-sized businesses. We manage every part of your IT, so you can focus on what you do best—running your business.
Partnering with NetAdmins is like having an entire IT support department at your disposal, whenever you need it. With a range of services including IP telephony (VoIP), email and web hosting, data back ups, paperless document management, security audits and 24-hour IT helpdesk, New Brunswick businesses can count on us as their only stop for business IT solutions.
On top of our à la carte offerings, we also provide comprehensive Managed IT Services in New Brunswick, Nova Scotia & PEI—including unlimited onsite and remote IT support, so you have a constant hedge against IT disasters. Our skilled computer technicians in New Brunswick maintain your business IT systems, keeping them in top shape, and minimizing downtime.
We make sure your managed IT services in New Brunswick are stronger and more secure so your users can be more productive and focused on your core business—always at a savings to your bottom line.
Contact us today to learn more about our Managed IT Service plans or our range of expert IT and communication services.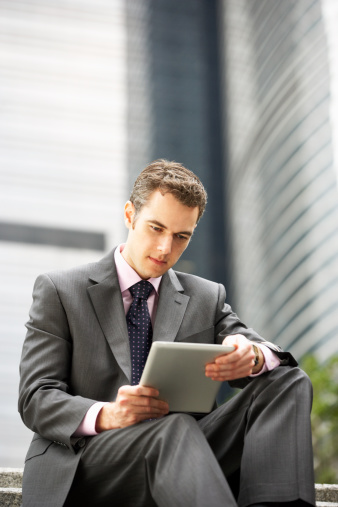 Yes.  A Reputable IT Provider Can Help You Mitigate These Risks.
Global Market Intelligence Firm, IDC predicts that more tablets than PCs will be sold in 2014. As surprising as this is, IDC's research shows that PC sales are actually down 10.1% for the year 2013.
Tablets are now the favored mobile-computing device for people around the world, — both for personal and business use. As tablet technology improves and use increases, it's becoming more commonplace for businesses to let their employees use tablets for work-related tasks.
The following are the top advantages of using tablets in the workplace:
Tablets Enhance Workplace Functionality
Your employees can work remotely from any location. When traveling, they can access important information and applications, finish projects, and keep in touch with clients on the road.
Tablets provide all the functionality of a laptop at a fraction of the cost. Tablets also offer a variety of free or inexpensive apps that can improve your staff's productivity.
Tablets Improve Meeting and Presentation Capabilities
Tablets are compact, portable and allow for on-to-go meetings and presentations. With the simple press of a button, a tablet is powered up and ready to go. While laptops are portable, tablets are more lightweight and more easily transported. 
Security Concerns With Tablets in the Workplace
Tablets are a great choice for businesses that want to use cutting-edge technology. However, they can bring a variety of security concerns.  The following are five important questions to ask when considering tablets in the workplace:
Should My Business Support Tablets?
Many organizations struggle with this question. According to research firms, one-fifth of companies don't tolerate the use of consumer devices or applications in the workplace. However, most do allow their use as long as proper security measures are in place.
What Are The Security Risks of Using Tablets?
There are several security risks to consider. The most common involves mixing work and play, even with a device designated for work only. It's important to educate your employees about the potential security risks of downloading applications, games, and videos. When your employees download non-work related content, there's a higher chance for data loss and network infection.
What Can I Do To Mitigate the Risk?
It's all about balance.  As technology evolves, security measures should evolve with it. However, this isn't always the case.  Your business can gain a competitive advantage by using cutting-edge technology. But you must learn to balance these advancements along with their potential security risks.
You need an IT Provider who knows what to look for. We can provide your business a Mobile Device Management solution that mitigates security risks. To learn more, give us a call or send us an email.