NetAdmins provides enterprise-class IT services & tech support to New Brunswick, Nova Scotia and PEI small and mid-sized businesses. We manage every part of your IT, so you can focus on what you do best—running your business.
Partnering with NetAdmins is like having an entire IT support department at your disposal, whenever you need it. With a range of services including IP telephony (VoIP), email and web hosting, data back ups, paperless document management, security audits and 24-hour IT helpdesk, New Brunswick businesses can count on us as their only stop for business IT solutions.
On top of our à la carte offerings, we also provide comprehensive Managed IT Services in New Brunswick, Nova Scotia & PEI—including unlimited onsite and remote IT support, so you have a constant hedge against IT disasters. Our skilled computer technicians in New Brunswick maintain your business IT systems, keeping them in top shape, and minimizing downtime.
We make sure your managed IT services in New Brunswick are stronger and more secure so your users can be more productive and focused on your core business—always at a savings to your bottom line.
Contact us today to learn more about our Managed IT Service plans or our range of expert IT and communication services.
Microsoft's Office 365 for Educators has many tools that teachers can use to make their day easier and help their students learn more effectively. The program is also free for any educator and districts can also obtain a license for free Office 365 programs for faculty and student use.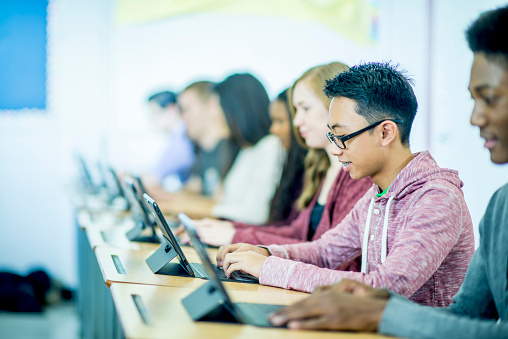 Many of Office 365's programs work cross-platform too, so students using tablets or Chromebooks can work together with students or a teacher or aide with a laptop or desktop computer.
How Will Office 365 Help Me Save Time as a Teacher?
Every year new standards and new curriculum makes planning lessons and fitting everything in the busy classroom day seem like almost impossible tasks. Office 365 has introduced some tools that help save time on paperwork and repetitive grading that can speed things up.
OneNote Class Notebook lets teachers put all of their lesson materials in one place, share them with the class when it's time, grade homework, and set up group projects and timelines seamlessly.
Grading is included in OneNote Notebook Creator
Teachers control adding students, including new students joining the class.
Teachers can team-teach and collaborate across classes
Collaboration space includes student groups and assignment-based collaboration
Students all have private notebook space for grades and individual work.
Best of all, OneNote Class Notebook is accessible from mobile devices and desktops. You can add lessons, grade, and respond to students while on the go.
How Can Office 365 Support Online Teaching?
Microsoft's Sway is also part of Office 365 for educators. The intuitive program lets teachers design lessons or collaborate with experts to create hands-on demonstrations.
Sway is also perfect for course modules or units which include visual, audio, and interactive materials. Teachers, assistants, and students can all work on and edit projects in sway. Everyone can see everyone else working. Sway even works for cross-curriculum or cross-platform teams (tablets, phones, laptops, desktops).
How Does Office 365 Keep Curriculum and Content Safe?
The days of stacks of torn, rain-stained handouts and lost homework packets may finally end thanks to Office 365's OneDrive. Teachers can save any documents, folders, and video content they need to OneDrive where they can be accessed at any time. Even if your computer crashes, OneDrive will have a copy of your materials. You can access files in OneDrive any time while on the go with the Office 365 Educator password.
Can Office 365 Support Distance Learning and Video Conferencing?
Skype for Educators is part of Office 365, with a global teaching community that stands ready to help educators make the transition to real-time video conferencing for education. Skype for educators even supports virtual field trips. Imagine a field trip where no one gets lost, and everyone can see and experience everything — and even language barriers can be overcome with Skype Translator.
Can Office 365 Support a Flipped Classroom?
Office 365's extensive tools and online educator community support and training can help teachers design all the content and curriculum they need to flip their classrooms and strengthen student learning. Collaboration is natural and intuitive throughout all the tools that Office 365 provides.
The last thing teachers need is added work and more new computer programs. Office 365 for Educators takes familiar Microsoft programs that teachers know and combines them with simple new tools and online classroom areas to build a suite of tools and materials for easier, faster, more effective teaching and learning.