NetAdmins provides enterprise-class IT services & tech support to New Brunswick, Nova Scotia and PEI small and mid-sized businesses. We manage every part of your IT, so you can focus on what you do best—running your business.
Partnering with NetAdmins is like having an entire IT support department at your disposal, whenever you need it. With a range of services including IP telephony (VoIP), email and web hosting, data back ups, paperless document management, security audits and 24-hour IT helpdesk, New Brunswick businesses can count on us as their only stop for business IT solutions.
On top of our à la carte offerings, we also provide comprehensive Managed IT Services in New Brunswick, Nova Scotia & PEI—including unlimited onsite and remote IT support, so you have a constant hedge against IT disasters. Our skilled computer technicians in New Brunswick maintain your business IT systems, keeping them in top shape, and minimizing downtime.
We make sure your managed IT services in New Brunswick are stronger and more secure so your users can be more productive and focused on your core business—always at a savings to your bottom line.
Contact us today to learn more about our Managed IT Service plans or our range of expert IT and communication services.
Need to Hire a Computer Repair Specialist? 5 Criteria to Consider
Are You Ready to Hire a Computer Repair Specialist? Read about the 5 Criteria You Need to Evaluate to Avoid Hiring the Wrong Person and Costly Mistakes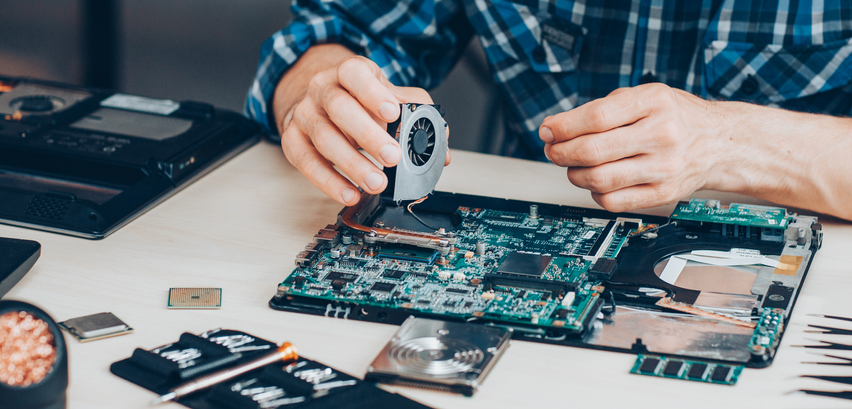 Computer use in the U.S. has grown exponentially in the last decade. Over 15 million computer devices were shipped out to users per year in 2003, according to industry data. That amount rose to an astonishing 65 million per quarter in 2015. With that many devices in consumers' hands, computer repair specialists are a must for personal and enterprise users when something goes wrong. However, when it comes time to decide who to hire, knowing what criteria to look for can mean the difference between a mediocre and an excellent result.
Experience Levels
When deciding to hire a computer repair specialist or vendor, ask about the length and type of experience the specialist has. A specialist that has years of experience with the types of devices your organization has is ideal. If hiring a specialist from a local or national vendor, ask how employees or contractors are selected. Some vendors, for example, will only hire contractors that have successfully completed various industry certifications.
Education and Training
Hiring specialists that possess a formal degree in computer science or information systems can help improve the quality of service you receive. Industry certifications specific to general computer repair and troubleshooting, Apple, and Microsoft devices can also help. Specialists that keep up to date with industry trends and changes through continuing education courses is another good sign you will receive excellent service. Yet, industry certifications and degrees alone are not as important as years on the job and skills.
Device Types
Take a look at what types of devices your organization has and what devices require ongoing or periodic support. Some repair technicians will be highly specialized in certain types of devices, such as tablets or desktops. Repair specialists may only work on specific brands like Apple or Dell. Another important consideration is determining which repairs and devices can be supported internally versus externally. Simple repairs like replacing or upgrading RAM might be able to be completed by your internal IT department, depending upon the device brand and type. Other repairs like replacing a motherboard could be more complicated and require the device to be shipped into a vendor's depot or replaced with a similar unit.
Cost
The cost of hiring a qualified computer repair specialist is usually at the top of most organizations' criteria. Although it can be tempting to choose the vendor or specialist that offers the lowest price, this may not always be the best option. Consider whether there will be extra fees for issues that come up after the initial repair is completed. Also, check into whether completed repairs come with a warranty and how long the warranty lasts. Keep in mind that while the price of the service is not necessarily equated with quality, choosing smaller vendors or individual repair specialists will likely provide you with the best value.
Recommendations
Ask peers for recommendations on qualified computer repair providers. If the vendor or specialist is local, visit the location as a potential customer to see how the specialist responds. Assess whether you were treated courteously, whether the technician attempted to listen to your problem, and what repairs the technician recommended.