NetAdmins provides enterprise-class IT services & tech support to New Brunswick, Nova Scotia and PEI small and mid-sized businesses. We manage every part of your IT, so you can focus on what you do best—running your business.
Partnering with NetAdmins is like having an entire IT support department at your disposal, whenever you need it. With a range of services including IP telephony (VoIP), email and web hosting, data back ups, paperless document management, security audits and 24-hour IT helpdesk, New Brunswick businesses can count on us as their only stop for business IT solutions.
On top of our à la carte offerings, we also provide comprehensive Managed IT Services in New Brunswick, Nova Scotia & PEI—including unlimited onsite and remote IT support, so you have a constant hedge against IT disasters. Our skilled computer technicians in New Brunswick maintain your business IT systems, keeping them in top shape, and minimizing downtime.
We make sure your managed IT services in New Brunswick are stronger and more secure so your users can be more productive and focused on your core business—always at a savings to your bottom line.
Contact us today to learn more about our Managed IT Service plans or our range of expert IT and communication services.
You would never open a restaurant without investing in the proper insurance policies. Before you ever light the grill, you'd make sure that you had every bit of liability coverage you could imagine. Before hiring your first employee, you'd make sure that your policy would protect your business's interests in the event of an injury or accident. You would never allow a customer to sit down and enjoy a meal without knowing that you were covered, should the worst happen.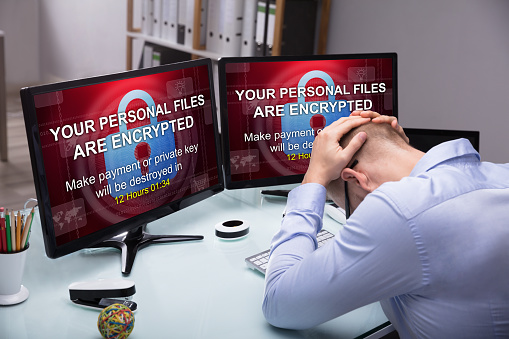 Regardless of the type of industry that you are working in, the first step is always self-preservation. Before you take two steps forward with your business, you do what you need to ensure that you won't have to take three giant steps back. Insurance and liability coverage is more than fundamental—it is the expectation. In many parts of the world, it is even mandated. But for some reason, this basic concept of protecting your business interests, as fundamental as it may be in other aspects of your corporate venture, isn't nearly as standard when it comes to protecting digital interests.
Every company utilizes some level of digital software, whether it is for internal processing, staffing purposes, or financial purposes. While a restaurant may run based on the goods in the kitchen and the friendly service of the staff, the business itself is only able to operate when everything behind the scenes—from inventory management to payroll—is functioning correctly. A ransomware attack on any company can have drastic negative consequences. Take for example the recent experience of a prominent Canadian restaurant chain, who after suffering a ransomware attack experienced a partial network outage and had to actually close several locations until the issue was resolved.
Protecting your company from accidents that may happen day to day is important. But malware isn't an accident—it is malicious and intentional, and it can happen to anyone. You will never realize that you are a target until it is too late, and if you aren't careful, you could end up with the attacker gaining access to incredibly sensitive information about your finances and business plans.
It is time to make digital protection a fundamental aspect of protecting your company. A simple malware protection software can alert you if anything suspicious is downloaded onto your computer, and will act as the first line of defense in keeping dangerous software and viruses off of your hard drive and away from your personal information.
When the malware attack shut down the offices of more than half a dozen prominent restaurant chains in Canada, including Harvey's, Swiss Chalet, and Montana's, it led to significant disruptions in service and profit margins. Phone calls had to go unanswered, the doors had to remain locked, and employees were sent home without paychecks. This is a massive disruption and one that can be entirely prevented with minimal effort thanks to advanced ransomware protection services.
Don't take any unnecessary risks with your corporate interests. Talk with an expert about the best malware protection services available that can help keep your restaurant's doors open and your profit margins healthy.