NetAdmins provides enterprise-class IT services & tech support to New Brunswick, Nova Scotia and PEI small and mid-sized businesses. We manage every part of your IT, so you can focus on what you do best—running your business.
Partnering with NetAdmins is like having an entire IT support department at your disposal, whenever you need it. With a range of services including IP telephony (VoIP), email and web hosting, data back ups, paperless document management, security audits and 24-hour IT helpdesk, New Brunswick businesses can count on us as their only stop for business IT solutions.
On top of our à la carte offerings, we also provide comprehensive Managed IT Services in New Brunswick, Nova Scotia & PEI—including unlimited onsite and remote IT support, so you have a constant hedge against IT disasters. Our skilled computer technicians in New Brunswick maintain your business IT systems, keeping them in top shape, and minimizing downtime.
We make sure your managed IT services in New Brunswick are stronger and more secure so your users can be more productive and focused on your core business—always at a savings to your bottom line.
Contact us today to learn more about our Managed IT Service plans or our range of expert IT and communication services.
Multitasking is the name of the game in almost any computer based career. Most of us discovered the Alt+Tab shortcut which switches you from one application in Windows to the next early on. [If you did not know – bonus tip!] But, one often under looked need is the ability to simply minimize all applications [and then return back to your last application if you so desire]. If you are using a mouse, you can always click on the Show Desktop icon [typically available in the very bottom right hand corner of your screen or next to your Start Menu, depending on your version of Windows].
However, you can also use the keyboard to switch focus if necessary. Assuming you have an enhanced Windows keyboard—the one with the Windows key next to the Alt keys—then the answer is simple. Here are two shortcuts you can use:
Press Windows+M to minimize all the open windows and change focus to the desktop. To return focus to where you were last working, using Shift+Windows+M.
Press Windows+D to minimize all the open windows and change focus to the desktop.
To return to your last application [without a mouse]:
Press Windows+D again and your focus is returned to the window in which you were previously working.
This tip is useful for any application used in a Windows desktop environment.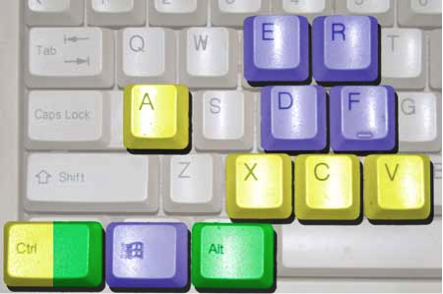 Please Note: This particular article is written with Microsoft Word 2007 and 2010 versions in mind. If you are using an earlier version (Word 2003 or earlier), this tip may not work for you.