NetAdmins provides enterprise-class IT services & tech support to New Brunswick, Nova Scotia and PEI small and mid-sized businesses. We manage every part of your IT, so you can focus on what you do best—running your business.
Partnering with NetAdmins is like having an entire IT support department at your disposal, whenever you need it. With a range of services including IP telephony (VoIP), email and web hosting, data back ups, paperless document management, security audits and 24-hour IT helpdesk, New Brunswick businesses can count on us as their only stop for business IT solutions.
On top of our à la carte offerings, we also provide comprehensive Managed IT Services in New Brunswick, Nova Scotia & PEI—including unlimited onsite and remote IT support, so you have a constant hedge against IT disasters. Our skilled computer technicians in New Brunswick maintain your business IT systems, keeping them in top shape, and minimizing downtime.
We make sure your managed IT services in New Brunswick are stronger and more secure so your users can be more productive and focused on your core business—always at a savings to your bottom line.
Contact us today to learn more about our Managed IT Service plans or our range of expert IT and communication services.
In searching for the ideal outsourced IT support company for your business, you may have come across some technical terms and phrases. Many of them are probably phrases you've heard before; however, you may not be sure of their precise technical meaning within the IT space.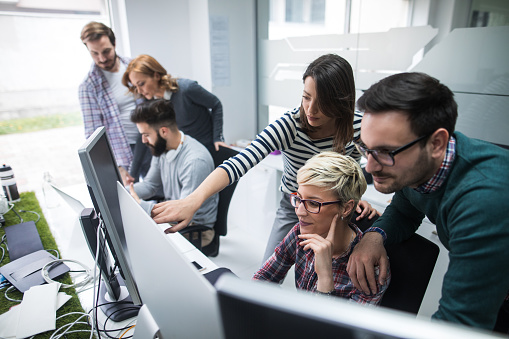 While there are general and universal terms, there may also be variations of these phrases from one service provider to another. When receiving a quote, make sure you have a full understanding of what your service plan will include.
With this in mind, the following is a list of common terms related to IT services along with an explanation of their general implications and meaning:
Help Desk
Help Desk refers to a central point of contact (external or internal) who can be consulted if problems arise. This technician would then determine the root cause of the issue and delegate the work to the appropriate department or team.
Break-Fix
Break-Fix refers to when an IT hardware component breaks down or becomes defective, an IT Support company (typically an independent contractor) would be hired to service, repair or replace it within a designated time frame. (The price of a replacement part is likely not included in the service pricing.) However, systems are not managed, monitored or maintained with this very basic level of service.
IT Support
IT Support refers to broad and general technical assistance for your system. It can cover the planning phase, the setting up of your system components and also the maintenance of software and hardware. However, service is conducted on whole systems and networks in a server room as opposed to servicing individual desktop computers.
Desktop Computer Support
Desktop Support covers office equipment and end users. Desktop Support often includes break-fix coverage as well as limited support and technical guidance. Desktop Support is typically offered remotely, to repair and support software-related issues on company networks and individual users' computers. It often also includes coverage of telephones, printers and other peripherals.
Managed IT Service 
Managed Service is technical support for your computer servers, system load balancers, firewalls, hosting and related components. Managed Service is more proactive than typical IT support. Systems will be maintained and monitored remotely by the service provider. Any service could be managed or fully managed; it is up to the client to decide what service level they need and expect to receive.
Fully-Managed IT Service
Fully-Managed Service includes all the features of Managed Service, but also covers day to day IT department activities like adding or deleting users, adjusting privileges, changing passwords and the like.
When signing up for a service plan, it's vital to be aware of the coverage and parameters of each option. This ensures that there will be no misunderstandings and that your company will be receiving the features that are ideal for your system. Services can range from basic break-fix to fully managed coverage and system care. Service may be hardware-only and not include routine care or specific jobs.
Again, this is not an exhaustive list of IT terms related to outsourced support. You should check with the providers you are considering and seek clarity about specific service offerings if required. However, this list offers a basic overview of the most common terms that are used in the IT Services Industry.